HRV/ERV Solutions

VS3000 RT
Dimensions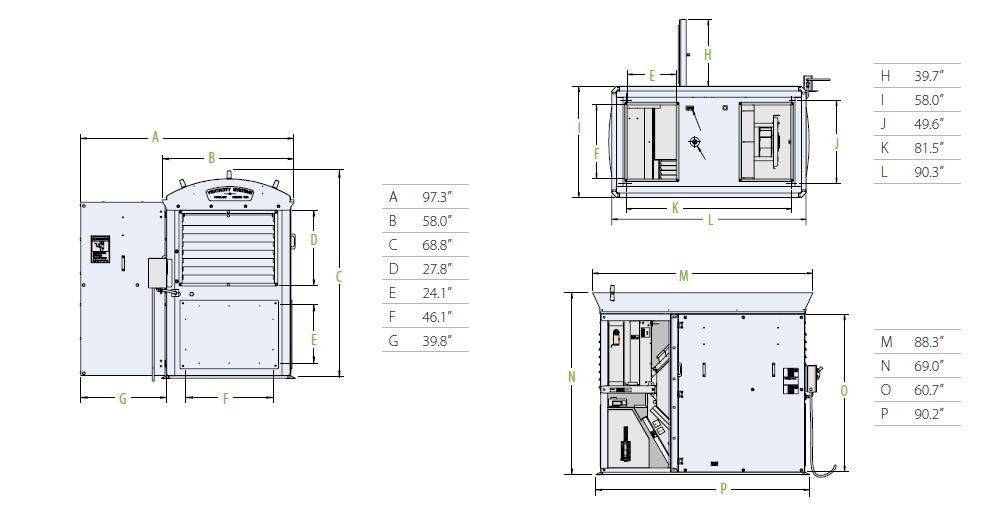 Parts

Feature
A larger capacity version of the VS1000 RT, the Ventacity VS3000 RT is an ultra- efficient and intelligent Smart Ventilation™ Management system that combines the technology of a heat recovery ventilator (HRV) with a dedicated outdoor air system (DOAS) for rooftop installation that continuously improves building health and indoor air quality, while minimizing building energy usage. It is suitable for various commercial applications including retail spaces, offices, restaurants, schools, public areas, and even multifamily residential buildings.
TAKE VRF TO THE NEXT LEVEL
Ventacity takes VRF systems to the next level by partnering with industry-leading variable refrigerant flow (VRF) solutions, such as the Fujitsu Airstage family. By installing Ventacity ventilation and management solutions with VRF systems, small and mid-sized buildings can achieve further improvements in efficiency and comfort as compared to using VRF alone. The combination of ultra-efficient Ventacity HRV systems and VRF systems dramatically reduces a building's HVAC load for significant energy savings.
VENTACITY HVAC2 SMARTER BUILDING PLATFORM™
The revolutionary Ventacity HVAC2 Smarter Building Platform™ integrates and networks all HVAC equipment to optimize efficiency, health, and comfort for an entire building or a portfolio of buildings. Through auto- detection based commissioning, it delivers fault-proof "plug-and-play" technology, reducing installation time, complexity, and maintenance costs for small to medium-sized buildings.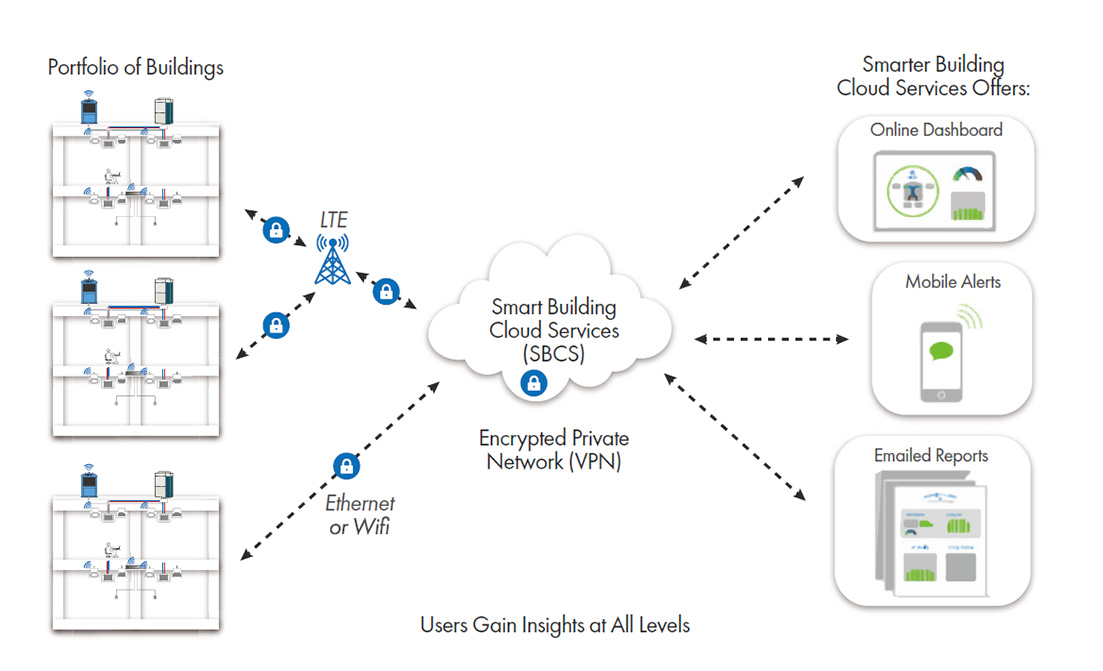 Unit diagnostics for optimizing energy consumption & indoor air quality
Unlimited data & complete access from anywhere
Preventative maintenance notifications
Easy user interface
Performance
Exceptional energy efficiency performance puts the VS3000 RT in a class by itself. With its aluminum counter flow heat exchanger core, the VS3000 RT transfers 82% to 93% of the heat between fresh and exhaust air streams. Our fans incorporate electronically commutated motors (ECMs) and backward curving fan blades, reducing the power required for air movement.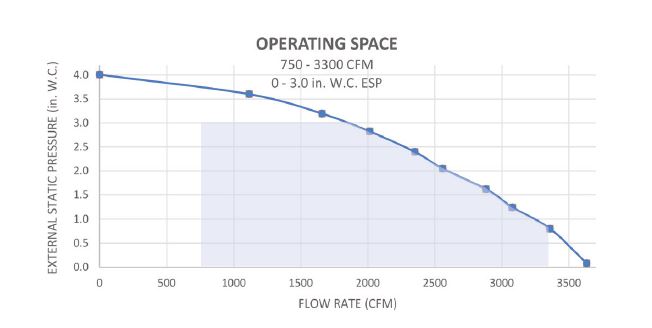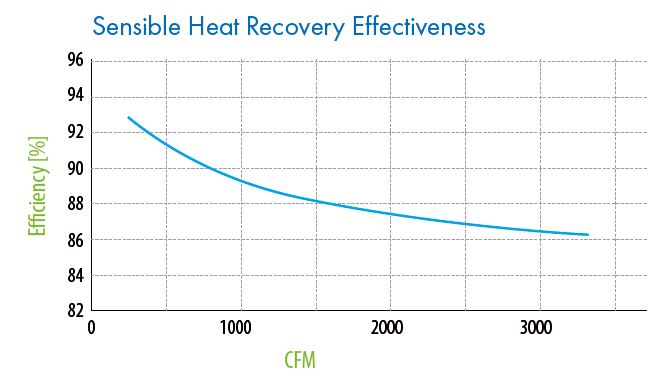 System Range
| Ext. Static Pressure (in. W.C.) | 0.5 | 1 | 1.25 | 2 | 2.5 | 3 | 3.5 |
| --- | --- | --- | --- | --- | --- | --- | --- |
| Maximum Flow (CFM) | 3200 | 3200 | 3000 | 2500 | 2000 | 1500 | 1000 |
| System Power (Watts) | 3304 | 3913 | 3723 | 3501 | 3120 | 2853 | 2665 |
System Range (at 1/2" Water Column)
| Air Flow (CFM) | 1000 | 1500 | 2000 | 2500 | 2750 | 3000 | 3200 |
| --- | --- | --- | --- | --- | --- | --- | --- |
| CFM/WATT (2 Fans) | 2.1 | 2.0 | 1.6 | 1.3 | 1.2 | 1.1 | 1.0 |
| System Power (Watts) | 468 | 768 | 1233 | 1909 | 2342 | 2846 | 3304 |
Port Configurations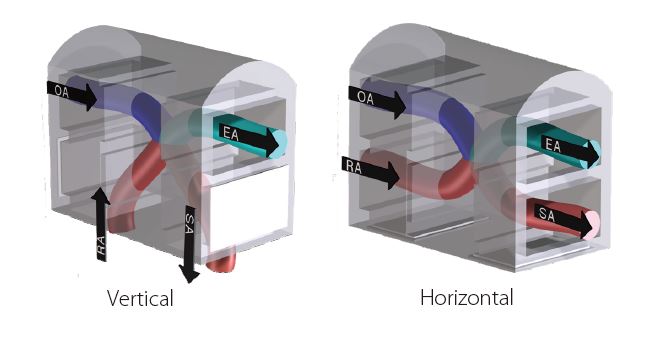 Accessories
Room CO2 Sensor*
Duct CO2 Sensor*
Room RH Sensor*
VOC Sensor*
Smart Building Gateway
*

Only one IAQ sensor per HRV supported at a time
Specifications
Ventilation Flow-Nominal
3,000 cfm
Ventilation Flow – Typical
500 to 3,000 cfm
Ventilation Type
Heat Recovery Ventilator (HRV)
Heat Exchanger
Counterflow Aluminum
Static Plate
Fan Type
Backward Curved,Centrifugal, EC
Heat Recovery – Max
93%
Temperature Range
-13° F to 122° F
Humidity – Inside Max
90% RH
Modes
CAV, DCV, VAV, BMS,
Economizer
Duct Connection
22" Dia (380 sq. in.) Min.
Temperature Control
Continuously Variable Bypass
Mechanical
| Weight | 1322 lbs |
| --- | --- |
| Dimensions | 86.3" L x 48.3" W x 73.5" H |
| OA PreFilter (Actual Size)* | 51.2" x 23.6" x 1.75" MERV6 |
| OA Filter (Actual Size)* | 51.2" x 23.6" x 3.75" MERV13 |
| RA Filter (Actual Size)* | 51.2" x 23.6" x 1.75" MERV8 |
| Base Anchor Dimension | 36.8" x 73.7" |
*Note:

Two half-width filters may be used for convenience (25.6" each)
Electrical
Power Supply
20.1 kW
25.5 kW
Voltage
208, 3Φ
208/480, 3Φ
FLA – Max
55.9 A
36.7 A
De-Ice Preheater
16.3kW
21.7 kW
Fan Motor Type
EC
Maximum Power – 1 Fan
3,098 W (2.62 hp)