AIRSTAGE SINGLE-ROOM MINI-SPLIT SYSTEMS

Universal Floor/Ceiling(Retired)

These models are universal mounted, meaning they can mount low on the floor or low on the wall, yet high enoughfor a vacuum to get under them. They can also be mounted on the ceiling. A popular application for this model is in hallways where wall space is limited.
Slim and lightweight in design, these systems are ideal for house of worship to mount beneath stained glass windows.
Lower in height that the pews they do not disturb the aesthetics of the space. With long piping lengths of 165' the outdoor units can also be placed remotely out of sight.
Universal comfort
An intelligent approach to comfort with a single unit that is equally at home standing upright as a floor unit or fitted horizontally to the ceiling without modification. Extremely quiet and energy efficient, they are ideal for residential or commercial situations.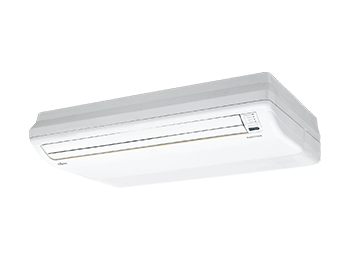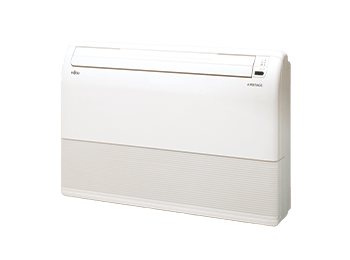 Inverter Technology
Through new, advanced technology, Inverter air conditioners are more economical to operate and quieter to run than conventional units. They can handle greater extremes in temperature, are smoother and more stable in operation, and reach the desired temperature more quickly than conventional air conditioners.
Wired Remote Controller UTY-RNBYU (Optional)
Features of the standard wired remote controller include:
Weekly timer
Set different on-off time by day
Set on-off time twice a day
Set time in 5 minute intervals
Child lock capable
Remote temperature sensor
Set different temperatures throughout the day.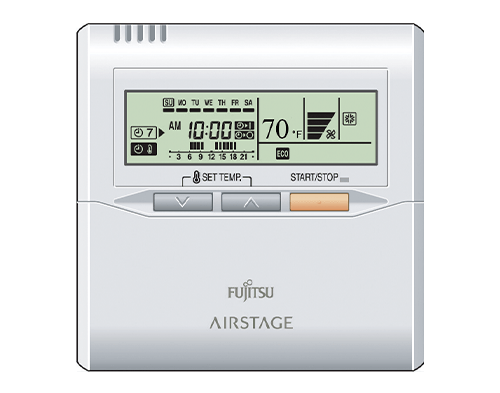 4-Way Auto Louver for Balanced Comfort
Airflow is automatically redirected left, right, up and down to provide a consistent temperature throughout a room, whether at floor or ceiling height.
Smart System: Auto Mode
When the system is initially turned on, the fan speed is HIGH to reach the set temperature as quickly as possible. The fan speed will automatically adjust downward as the room begins to reach the set temperature.
Humidity Control
The universal system features Dry Mode, which helps to control humidity levels, even when cooling may not be needed.
Fresh Air Intake
Outside air can be introduced by attaching field supplied flexible duct to fresh air knockouts. Fresh air connection kit is Fujitsu part #KHRS940-25. (available through distributors)