Halcyon™ SINGLE-ROOM MINI-SPLIT SYSTEMS Wall Mounted RLF/RLX Series, LMAS Series

High SEER

Systems 9RLFW1, 12RLFW1 - ENERGY STAR® Qualified
Stylish, slim and elegant, these popular wall mounted units are designed for single rooms. Indoor units have a clean, aesthetic design and are small but mighty and shorter in length than competing units, helping them blend into any room. 9RLFW1 and 12RLFW1 are Energy Star qualified heat pumps, meaning they save you money on your utility bill and provide both heating and cooling.
System 18RLF, 24RLF - ENERGY STAR® Qualified
This category of equipment is ideal for medium spaces where spot cooling or heating is required. Residential applications including sunrooms and additions are made easier with these air conditioners and heat pumps. Do you have a warm spot in your home? Our mini-splits can provide extra heating or cooling capacity for those hard to reach areas. Commercially, their size makes them ideal for small to medium offices, providing individual temperature control.
Inverter Technology
Through advanced technology, Inverter air conditioners are more economical to operate and quieter to run than conventional units. They are smoother and more stable in operation, and reach the desired temperature more quickly than conventional air conditioners. The Inverter component allows the outdoor unit to vary its speed and output to match the required capacity of the indoor unit. Thus, the Inverter model can achieve 30% more operating efficiency than conventional models and therefore, is much less expensive to run.
ENERGY STAR® Qualified
Since mini splits have little to no ducting, they forego those energy losses typically associated central forced-air systems. Duct losses can easily account for more than 30% of energy consumption, especially if the ducts are not sealed tight or in an unconditioned space such as an attic or crawlspace. With ratings as high as 23.0-SEER (Seasonal Energy Efficiency Ratio), these systems are among the highest rated efficiency equipment available anywhere!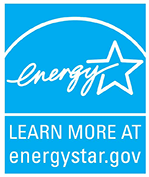 Clean Air
These heat pumps feature both an Apple-Catechin Filter and an Ion Deodorizing Filter. The Apple-Catechin Filter absorbs dust, mold spores and microorganisms by static electricity. Growth is inhibited and deactivated by the polyphenol ingredient extracted from apples. The Ion Deodorizing Filter deodorizes by powerfully decomposing absorbed odors using the oxidizing and reducing effects of ions generated by the ultra-fine particle ceramic.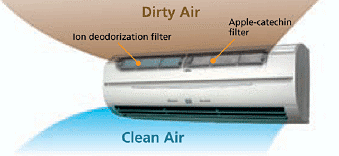 Quiet Operation
Wall mounted systems include an extra quiet fan speed ("Quiet Mode") to make sure that you are not disturbed.
Wireless Remote Controller
Comfort control is at your fingertips with the standard wireless remote controller.
Washable Panel Filter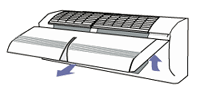 The removable and washable panel filter is an effective air cleanser, removing mold & dust from the environment. Cleaning of the indoor unit itself is simple due to the design and shape of the casing.
Smart System: Auto Mode
When the system is initially turned on, the fan speed is HIGH to reach the set temperature as quickly as possible. The fan speed will automatically adjust downward as the room begins to reach the set temperature.
Humidity Control
This system features Dry Mode, which helps to control humidity levels, even when cooling may not be needed.